There's no denying that Airbnb revolutionized the travel industry. Gathering homeowners and customers onto a single app opened up thousands of homes worldwide to short- and long-term renting. Although short stays are common on Airbnb, guests also have the ability to book monthly Airbnb rentals. Of course, there are pros and cons to doing so.
Let's take a look at the different benefits of Airbnb for long-term rentals, as well as some of the shortfalls you may experience.
What is Airbnb?
Airbnb is a home-sharing platform on which you can find all types of properties. From glamping to private islands and treehouses, homes on this website truly run the gamut.
Booking an Airbnb is simple. You'll need an account, but once you're signed up, it's easy to input your desired travel location and dates of travel. There are a multitude of filters from which you can choose, including those with flexible cancellation and availability for long-term stays.
Nerdy tip: Stays of at least seven nights can score you discounts on your Airbnb bookings.
Airbnb can be especially helpful for those needing longer-term stays in foreign locations, such as digital nomads.
Once you've found a property you like, you can either book instantaneously or send a request to reserve, depending on the listing. Payment is completed online, and there are no additional charges for using a credit card. Consider booking with a credit card that offers travel insurance protections to have more security in times of need.
With such a broad selection of properties — coupled with the uptick in work-from-home arrangements — many travelers may seek a monthly Airbnb rental for accommodation.
Pros of booking a monthly Airbnb rental
Booking an Airbnb for long-term rentals may be a good idea, especially for those seeking convenience and savings within the platform.
Discounts
Booking long-term Airbnbs is so common that it has its own search filter, allowing you to look for stays a month at a time. Perhaps the biggest pro of booking a monthly Airbnb rental is the amount of money you'll save.
For a luxurious two-bedroom villa in Bali, Indonesia, the nightly rate hovers around $70.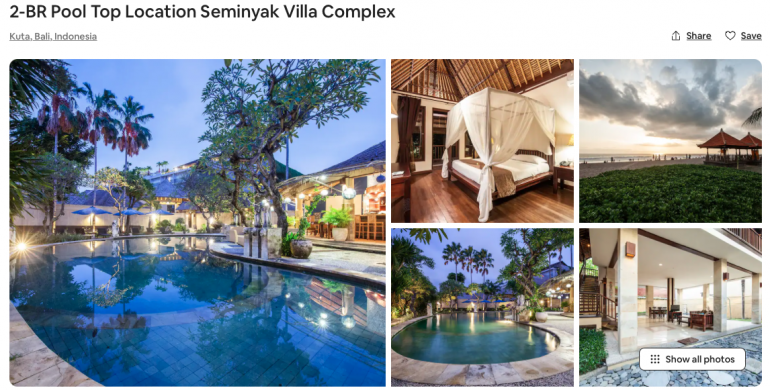 However, for a monthly stay, the host offers a 60% total discount. In this case, your nightly rate falls to $29 before fees, which is a significant savings compared to booking short term.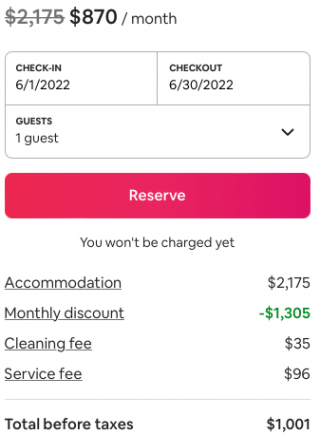 Stability
Although cost-savings can be a huge benefit, those who have been on the road for a while may also appreciate the stability that a monthly Airbnb rental offers even more. Living out of a suitcase can be exciting for a while, but the ability to unpack and cool down in a single location for a stint can be highly valuable.
Credit card rewards
The ability to book your Airbnb using a credit card can be a boon for those looking to earn rewards. (Tip: These are the best credit cards for Airbnb.) While some home and apartment rentals will only accept cash equivalents, Airbnb's booking system allows savvy cardholders to earn plenty of bonus points on their stays.
Cons of booking a monthly Airbnb rental
So what are the cons of monthly rentals on Airbnb? Mostly, it's the fact that Airbnbs aren't guaranteed.
Last-minute cancellation risks
Let's say you've booked a long-term rental in Sacramento, California. You booked well in advance, as your stay was meant to be eight weeks long. As a result, you are secured a decent nightly rate.
However, two weeks before arrival, the host unexpectedly canceled your stay. Of course you'll get a full refund — but now that your trip is so close, costs to replace your lodging have risen significantly. In this case, you're largely out of luck.
You can try to book two single month stays, or even break your bookings into shorter chunks to find more affordable options, but you have little recourse otherwise.
Nerdy tip: If your Airbnb is in bad condition and Airbnb's customer service doesn't help, reaching out to your credit card company may get the issue resolved.
Strict cancellation policies
You may face stricter cancellation policies when booking a stay of 28 days or more on Airbnb. Depending on when you need to cancel, you can end up with a nonrefundable payment.
If you need to cancel dates after your trip has already started, you may need to pay for up to 30 more nights of your booking — even if you're not going to stay there.
Costs
Airbnb users — regardless of their length of stay — generally trade higher prices for convenience (especially when adding in cleaning and service fees). But no matter where you're going, you can often find a cheaper option for a stay on a different lodging platform.
Nerdy tip: Savvy travelers can opt to book an Airbnb first to get to know a city. Once they've learned the area and made a few connections, they can switch over to a more affordable stay.
In some cases, this may be by staying with a friend of a friend, securing a stay at a budget hotel or even using a booking website in a foreign language.
No loyalty program
Airbnb lacks a loyalty program, which can be a huge loss if you're a frequent traveler. Although some people may prefer a full-sized home with all of its amenities, those with a lot of travel plans can earn elite status with a variety of hotel chains — sweetening the deal for life on the road.
Elite status comes with its own very valuable perks, such as early check-in, late checkout, complimentary executive lounge access and free breakfast. This is in addition to the standard amenities you'd expect to see in a hotel, such as security, housekeeping and 24/7 staffing.
While a hotel room is not an equitable substitute for a full home, elite status can grant you many benefits and even help cut down costs on things such as food and Wi-Fi.
If you want to book monthly Airbnb rentals
Airbnb is a valuable resource for many types of travelers, but it can be especially valuable for those looking for long-term stays. Booking a monthly rental on Airbnb can save significant amounts of money over shorter-term bookings, but it may still cost more than using a local resource.
However, the convenience of using the service and the ability to pay with travel rewards cards makes monthly rentals on Airbnb a compelling option for many.
How to maximize your rewards
You want a travel credit card that prioritizes what's important to you. Here are our picks for the best travel credit cards of 2022including those best for: